Professional website design and development for businesses in Sydney
We are the web design agency that can make your dream a reality.
We provide a full suite of digital services to deliver stunning digital products to our diverse client base. 
G'day, we're Clickk. We make websites for businesses across Australia. We're serious about creating amazing sites, designs and growth for SMEs.
Are you looking for a bespoke web design company in Sydney?
Looking for a web design company in Sydney? Clickk is here to help! We are experts in web design and web development, and we can help you create a website that looks great and performs perfectly. We understand the importance of creating a website that is both user-friendly and search engine optimised. A well-designed website is a key to success in today's digital age. Let Clickk help you create the perfect online presence for your company. We have the experience and expertise to make sure your website exceeds your expectations.
Our team will work with you every step of the way, from concept to completion, and we'll be there to support you long after your website goes live. If you're looking for a Sydney web design company that can deliver quality and tangible results, look no further than Clickk.
How much does it cost to build a website in Sydney?
This is a question we often get asked! We have three packages for website builds which we offer to Sydney businesses!
Start from $5,000 + GST
These sites are built on WordPress & Elementor, using pre-existing website themes built by a third party. Our team modifies these themes to suit your businesses branding and offerings.
Start from $15,000 + GST
Our custom sites are hand crafted, built from scratch using our in house graphic designer. These sites have excellent user experience and include our digital strategy workshop.
Start from $25,000 + GST
Like our custom sites, our high end sites are build from scratch with fancy animations, API integrations, payment capabilities and more! Your wildest ideas, brought to life!
How long does it take to build a website?
Depending on your package, our build times are approximately 4-6 weeks. This can vary depending on complexity!
Do you offer website support & maintenance?
Yes! We have an in-house, Australian based support team who can help with website upgrades, maintenance and technical support. Our team is available during office hours and also we have an emergency support line!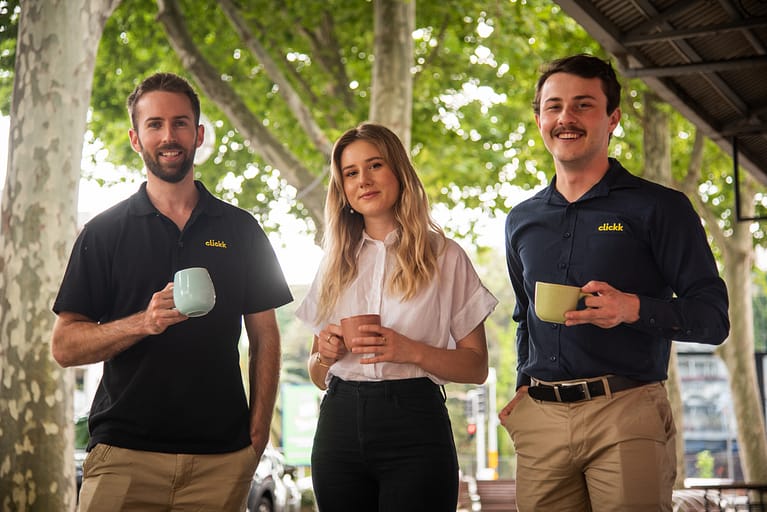 Meet your next digital team
Most of our clients are left speechless!
But a few of them have this to say about their favourite digital agency!
Clickk has been an integral part of my team. With no real marketing strategy and website, Chris and the team designed and developed a digital marketing strategy that has grown the business.
Glenn Stojanow
CFN
Chris and his team have been outstanding. They helped with a complicated website migration over to a new hosting and made me feel totally relaxed knowing my website would be transferred safely and efficiently in their hands.
Sheona Malcolm-Green
The Re Club
Nothing short of the best business to business experience. The team has taken us from obscurity to a place we only thought possible 5 years from now. They were able to achieve mind blowing results.
David Summers
Ausure Horizon
Clickk has been with my pest and building inspection company since the beginning. We have our web design & digital marketing performed through Clickk. Their advice is always honest, down to earth and friendly.
Glenn Skardon
Reliant Pest & Building
Chris not only has the knowledge and skill but is driven, passionate and his relaxed but professional nature makes working with him easy. Making the client feel valued and important is something I place the utmost importance on in my own practice but something I find in dealing with other businesses incredibly rare.
Natalie Sharah
Bowen Therapy
Chris and his team are simply outstanding. With deep knowledge, passion and true professionalism every step of the way - I wouldn't recommend anyone else. Always a pleasure.
George O'Brien
Future Property Co