Automation & Customer Consideration
4D Controls is a leading supplier programmable logic controllers and automation parts in the industrial and mining sectors around the world. 4D Controls approached Clickk to elevate their digital channels.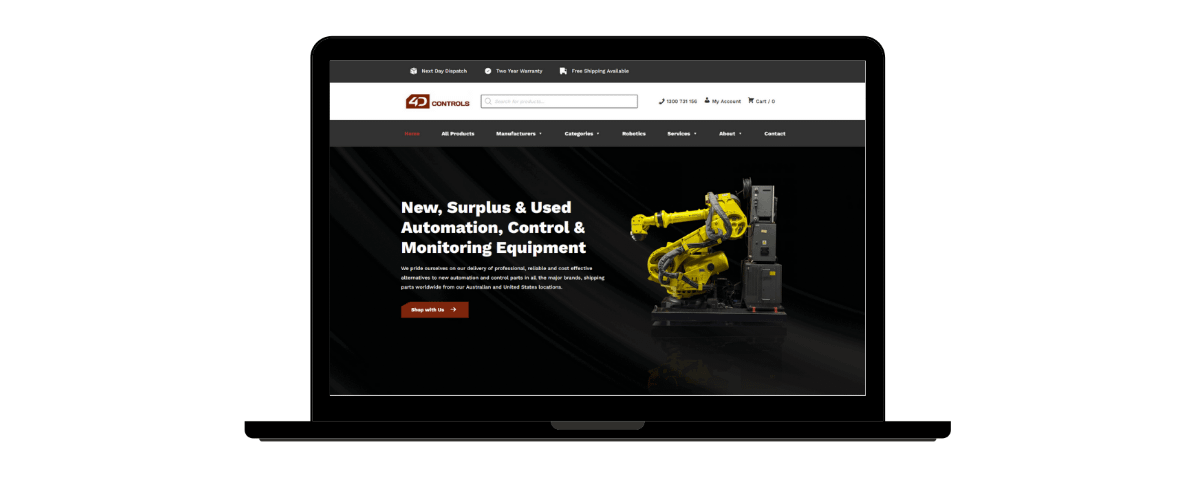 Integration to internal ERP
Multi-currency payment gateway
Custom stock locator
Google Pagespeed
The Challenge
4D Controls supplies automation equipment across the globe. Spending thousands of dollars in eBay fees, the team approached Clickk to create a new site that made the customer experience seamless.
The old site was slow (with benchmark loading times around 14 sec) and lacked a modern UX.
The Approach
The first stage of the project was to conduct market research to understand what competitors were doing and to inform our research approach.
We understood their behaviours, pain points, unmet needs and overall experience of using 4D's digital channels across Facebook, eBay and their website.
Using this research, our lead graphic designer Jemma created a brand new design for 4D Controls. A key focus was on SEO based design, ensuring that the right on-site information was displayed to the user as quickly and as efficiently as possible.
The Outcome
Performance was significantly enhanced in the new site by upgrading from a cloud virtual server to Amazon AWS Lightsail. We also made recommendations on the website architecture and utilised a CDN for better performance and security.
One of the key features of the build was its complexity 'under the hood', encompassing a large number of APIs and integrations with internal systems, eBay, Xero, currency and taxation plugins.
Due to Covid related lockdowns, this project was mostly run entirely remotely. Despite this, the site was delivered and launched with an extremely high level of quality and client satisfaction.
It has been an absolute pleasure working with Clickk on a rewrite of our website. Our website is a complex, multistore (USA and Australian), multi-variant eCommerce site with more than 12000 SKUs. We found the Clickk team to be passionate, highly skilled, and extremely knowledgeable and as a result able to confidently guide us through this process. Clickk has become a reliable partner in our business and an essential part of any ongoing website enhancements.
– Jeremy, Operations at 4D Controls