We are professional website design & development experts servicing Gold Coast
We are the web design agency that can make your dream a reality.
We provide a full suite of digital services to deliver stunning digital products to our diverse client base. 
G'day, we're Clickk. We make websites for businesses across Australia. We're serious about creating amazing sites, designs and growth for SMEs.
Clickk can elevate your website design in the Gold Coast
Web design is more than just creating beautiful websites. At Clickk, we take an integrated approach to building digital strategies that will fuel your vision and magnify your impact in tangible ways – whether it's through developing new tools or helping with strategy development.
Clickk is a Gold Coast web design studio with over six years of experience in creating beautiful, responsive websites that convert visitors into customers. Our team of talented designers and developers will work with you to create a website that accurately represents your brand and meets your specific needs. Whether you are looking for a simple website or an eCommerce store, we can help.
Looking for a web design company on the Gold Coast? Look no further than Clickk! We are experts in web design and development, and we can create a website that is perfect for your business. We have years of experience working with businesses in the Gold Coast area, and we know what it takes to create a website that will stand out from the competition.
Importance of Web Design Gold Coast
A well-designed website is essential for any business that wants to succeed in the digital age. Your website is often the first point of contact between your business and potential customers, so it's vital that it makes a good impression. A well-designed website will not only make an excellent first impression, but it will also be easy to navigate and packed with the information that potential customers are looking for. On the other hand, a poorly designed website will reflect poorly on your business and drive potential customers away. In today's competitive marketplace, a professionally designed website is essential for any business that wants to succeed.
Clickk's web designs are visually appealing and easy to navigate, helping to ensure that visitors stay on your site and learn more about your products or services. In addition, our well-designed website is responsive, meaning that it can be accessed and used effectively on any device, from desktop computers to mobile phones. With more and more people using their phones and tablets to browse the internet, a responsive website is essential if you want to reach as many potential customers as possible. Good web design can help you stand out from your competitors and attract new customers, so it's an essential investment for any business.
How Our Web Design Process Works
Clickk's web design process is simple and efficient, resulting in beautiful, modern websites that are easy for users to navigate. We begin by meeting with our clients to discuss their needs and objectives. Once we clearly understand our client's vision, we start the design process. We take your input and ideas and turn them into a beautiful and functional website. Our team of experienced designers creates custom designs that are both visually appealing and functional. We then work with our clients to refine the designs until they are perfect.
Once the designs are finalised, our development team starts building the website. They code the website using the latest web standards and ensure that it is compatible with all major browsers. The website is tested on different devices to ensure it looks and works great. Finally, we launch the website and monitor it to ensure it continues performing well. Our goal is to provide our clients with a website they can be proud of and meet their needs.
Why Choose Clickk for Gold Coast Web Design Agency?
Clickk has been designing websites for over six years, and our experienced team has successfully completed hundreds of projects during that time. We have a proven track record of delivering quality websites that look great and achieve the results our clients want. Our team is passionate about design, and we're always keeping up to date with the latest trends to create cutting-edge websites that stay ahead of the competition.
We're also committed to providing outstanding customer service, and we'll work closely with you throughout the entire process to ensure you're happy with the end result. In addition to web design, Clickk also offers various other services such as search engine optimisation (SEO), branding, digital strategies and content marketing.
Gold Coast Websites
Clickk can help you with either a WordPress website or a bespoke eCommerce solution. Our staff collaborates with you to create digital offerings that connect with your target audience and result in tangible results. Clickk is a web design company that can help turn your vision into reality.
So if you're looking for a web design agency that can deliver results, Clickk is the perfect choice.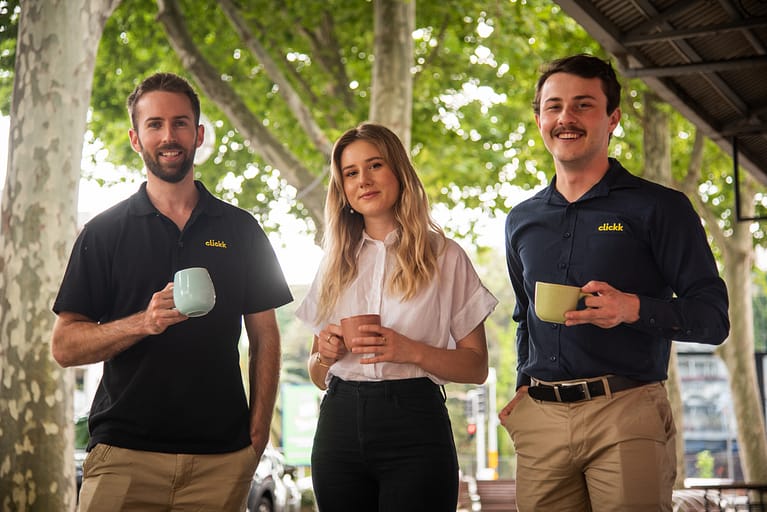 Meet your next digital team
Most of our clients are left speechless!
But a few of them have this to say about their favourite digital agency!
Clickk has been an integral part of my team. With no real marketing strategy and website, Chris and the team designed and developed a digital marketing strategy that has grown the business.
Glenn Stojanow
CFN
Chris and his team have been outstanding. They helped with a complicated website migration over to a new hosting and made me feel totally relaxed knowing my website would be transferred safely and efficiently in their hands.
Sheona Malcolm-Green
The Re Club
Nothing short of the best business to business experience. The team has taken us from obscurity to a place we only thought possible 5 years from now. They were able to achieve mind blowing results.
David Summers
Ausure Horizon
Clickk has been with my pest and building inspection company since the beginning. We have our web design & digital marketing performed through Clickk. Their advice is always honest, down to earth and friendly.
Glenn Skardon
Reliant Pest & Building
Chris not only has the knowledge and skill but is driven, passionate and his relaxed but professional nature makes working with him easy. Making the client feel valued and important is something I place the utmost importance on in my own practice but something I find in dealing with other businesses incredibly rare.
Natalie Sharah
Bowen Therapy
Chris and his team are simply outstanding. With deep knowledge, passion and true professionalism every step of the way - I wouldn't recommend anyone else. Always a pleasure.
George O'Brien
Future Property Co